Indy Arms has the largest selection of rental firearms in the city! And with a selection that's continually growing, we're sure to have a gun here that you've been waiting to try out.
Rental Prices (must be 21+ to rent firearms)
Handguns: $10.00ea or 3 for $25.00
Rimfire Rifles: $15.00
Centerfire Rifles: $20.00
Try it before you buy it
When you're in the market for a new gun, it can be tough to make a decision without trying it out first – just like when buying a new car. That's why we started the "Try it before you buy it" program.  If you rent a handgun from our Rental Wall and decide to buy the same make/model during your visit, we will credit your $10.00 rental fee off the purchase price of your firearm!
The Rental Wall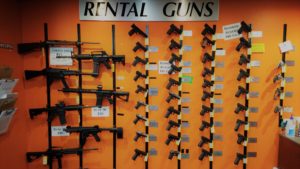 We have more than 50 firearms available to rent! Our Rental Wall is constantly changing, and includes many popular makes/models, as well as some unique guns you won't find for rent anywhere else! Please call or stop in and check out our current selection!