Meghan Lowery
 Instructor & Training Advisor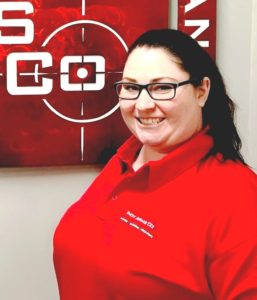 Meghan R. Lowery, Ph.D. transformed her knowledge and skills in one year (August 2016-August 2017) from having never touched a firearm to competently handling, buying, operating, carrying, competing with, and teaching others about rifles, shotguns, and handguns.  She is passionate about creating an open and inviting learning environment for others.  Her support to students and enthusiasm is exhilarating.
Most recently, Meghan earned "distinguished graduate" honors at the 4-day Defensive Handgun course at Front Sight Academy (Nevada), and has over 160 training hours from various instructors and training academies under her belt.  She is a USCCA-certified Instructor, TTA-certified Instructor, as well as a Glock Armorer. In the fall of 2017, she graduated from Indianapolis Public Safety Citizen's Academy, and participates in public safety (including law enforcement) training as a citizen.  She regularly competes in the Glock Sport Shooting Foundation (GSSF) and in NRA High Power Rifle competitions.
Professionally, she works full-time for a Fortune 500 company, helping to address organizational issues with data-based solutions, as well as being an adjunct professor of psychology and a co-owner of an organizational consulting firm. Meghan, in addition to regular classes, also teaches ladies-only versions of Indy Arms' Introduction to Handgun and USCCA Concealed Carry classes.