Joel Nadler
 Instructor & Events Coordinator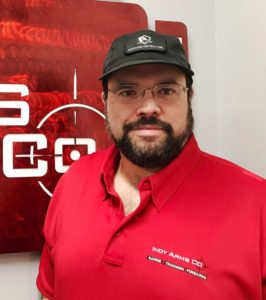 Joel T. Nadler is an avid collector of firearms and a proponent of the right to self-defense, and has been extensively trained in defensive firearm use.  Joel holds multiple certifications as a defensive firearms instructor and continues his training to this day. He has taken and/or co-instructed all of the courses offered at Indy Arms, and has also taken multiple training courses from such providers as Front Sight, Glock, and others.
Joel is a firm believer in the need for proper training for anyone who owns, uses, and especially carries firearms.  He believes in the "a way not the way" perspective of training and is constantly on the lookout for new ideas to incorporate into his own instruction.  His passion is in helping newer and intermediate shooters feel comfortable advancing their skills and training for defensive use and carry, or just accuracy and competing.
When not training at Indy Arms, Joel uses his Ph.D. in Applied Psychology as a tenured professor and director of an Industrial/Organizational Psychology Master's program. As an instructor, he primarily teaches graduate-level classes and workshops for working professionals.  He is also the co-founder of Alpha Omega Associates, a consulting firm focusing on helping organizations and designing corporate training programs.
Joel is proud of the training offered at Indy Arms and has spearheaded the integration of the USCCA's Defensive Firearms training into IAC's curriculum. He currently teaches IAC Introduction to Handgun and USCCA Concealed Carry courses, as well as co-instructing many of IAC's other classes.