Introducing Tony Gregory
Senior Instructor & Training Coordinator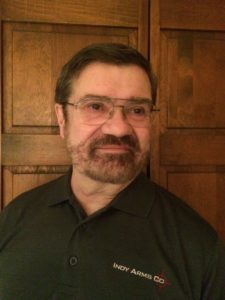 Tony Gregory, the Senior Instructor and Training Coordinator for Indy Arms, is a passionate lifetime student of the self-defensive arts. He has spent the last 25 years as a law enforcement officer, and is a nationally known, award-winning trainer.  He did not enter law enforcement until age 40, and prior to his law enforcement career he spent 20 years in the private sector as the CEO of a mid-sized corporation, business consultant, and trainer.  He brings a perspective to personal defense that comes from having seen it as both a theoretical concern, and a practical reality.  He retired from the Marion County Sheriff's Office in 2015 as Captain and Assistant Director of the Training Academy.  He is still active in law enforcement as a part-time Captain and Training Director for the Homecroft Police Department.
Tony holds sixty instructor certificates in firearms, defensive tactics, secondary weapons, use-of-force, and related areas.  These include law enforcement Handgun, Shotgun, Patrol Rifle, Defensive Tactics, Taser, Baton, Pepper Spray, Kubotan, Handcuffing, Edged Weapons, Weapon Retention, Control Holds, and Conflict Resolution. He is also an NRA Basic Pistol, Personal Protection, Home Firearms Safety, Refuse to Be a Victim, and Law Enforcement Firearms Instructor.  In addition to teaching civilians defensive firearms, he works as an Expert Witness in both law enforcement and civilian use-of-force cases, and also does contract instruction for law enforcement agencies.
Tony has had the great good fortune to train extensively over the past 30 years at most of the leading private defensive academies and firearms training organizations in the U.S., under many of the best known, and even legendary, figures in the field of defensive firearms.
He will be the first to tell you that he has "no original ideas" and didn't invent any of what he teaches.  But having had the opportunity to study under so many of the individuals who have developed our understanding of self-defense encounters, it has become his mission to share as much of that knowledge as he can with those who need it.  To that end, he has presented over two-dozen instructor-level courses at national training conferences over the past 15 years, and authored over 30 law-enforcement training programs.  His even broader mission is to bring this training to the citizens who need it the most, and who are willing to take personal responsibility for their own safety.   It has been his experience that most people who are so inclined find it a fascinating and fun endeavor.
Tony has authored and teaches a number of Indy Arms courses, including our flagship/core course, Fundamentals of Armed Self Defense, as well as Tactical Handgun, Tactical Rifle, Tactical Shotgun, and Private Lessons..
You can contact Tony at:  317-250-7531 or Tony.Gregory@IndyArms.com.