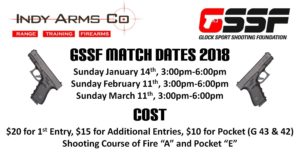 Indy Arms Company is proud to host Glock Sport Shooting Foundation (GSSF) Indoor League Matches!
The GSSF indoor league is designed to challenge the experienced shooters (winning plaques to be awarded after all three dates are complete) and still be accessible to the newest shooter (main prize of a free gun is randomly awarded among all those that compete).
Never shot competitively before? New to Shooting? This event is for you as you can track your progress from month to month and is a test of basic skills (guns are shot at low ready, no drawing from holsters).
Each league is a series of three matches conducted over a 3-month period (one league day a month: Generally the second Sunday from 3-6pm).  Participants can shoot only one date but must compete in two of the three matches to qualify for plaques and prizes.
Competitors may shoot ANY GLOCK pistol in the Indoor League Series events.
Cost is $20 for the first Glock (any division), $15 for each additional standard sized Glock entered and $10 for each Pocket Glock (G42 or G43) entered*
* Price does not include any equipment or gun rental and/or ammo purchase (competitors can bring their own ammo, eyes, ears, and Glocks)
The Lewis Prize Allocation System is used to distribute as equitably as possible. Each separate pistol used during the match will be a separate entry. Your two best scores of each entry during the series (of three) will be totaled and averaged at the end of the 3-match series.
Participants may shoot more than one pistol at each event. The course of fire may be shot more than once per pistol. However, for each division ONLY the first of fire will be placed in the rankings and ONLY the first course of fire will be eligible for the 500 or 250(Pocket GLOCK) Club ranking.
Plaques are awarded to the top competitor of each class at the end of the three dates.
A Free Glock is given away in a lottery consisting of all shooters who shoot two of the three matches (dates) for each league.
Scoring
Course of Fire A and Pocket
Allocate points for each shot as follows:
10 points = X Ring
10 points = 10" Ring
8 points = 8" Ring
5 points = any other bullet mark on the target
If a shot cuts the line, the higher point value is given.
There is a maximum of 500 points.
When scoring Course of Fire Pocket GLOCK there is a maximum of 250 points
GSSF Competitions divide firearms into two classes – Stock and Unlimited.
See below link for full list of acceptable modification on stock weapons as well as modifications that result in unlimited designation.
GSSF Full Rules – Click Here
Additional Classifications include Lady Class, Senior Class, Junior Class and Pocket GLOCK
Winners will be posted on the GSSF website at www.gssfonline.com under the Indoor League tab